Ok mom's, you all know how much you love to support other mom's so here is a GREAT opportunity for you! Laurie over at
http://www.tipjunkie.blogspot.com/
has a listing of some really wonderful sites owned by mommies all over for you to browse. Why not get all of your holiday shopping done from the comfort of your own home and support other moms as well?!
Bloggers, while you are at it, add Laurie's button to your sidebar. Your help in her efforts would be greatly appreciated!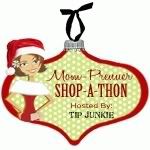 Now, get shopping!
Oh, one more thing! If you'd like to get your site listed stop by Laurie's blog. The cost is only $5.00!